---
Training football coaches in their own neighbourhood or village, so that they can be trainers and role models in their own local communities.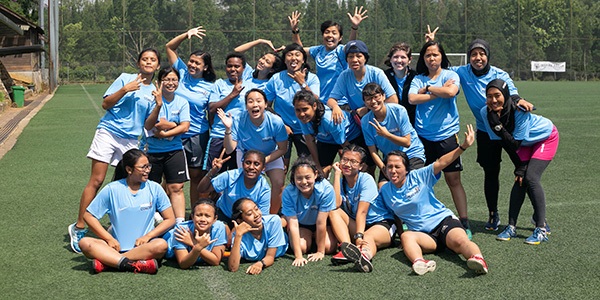 That, in a nutshell, is the main philosophy behind WorldCoaches, the international social programme launched by the Royal Netherlands Football Association (KNVB) in 2009. The programme is based on the KNVB's long-standing experience and expertise in coaching and training.
The WorldCoaches programme focuses on three strategic goals:
Personal development
Social cohesion
Health.
Football connects people anywhere in the world. WorldCoaches plays its part by inspiring children and guiding them in a natural, playful way in sports, and in their social behaviour. The activities, organised by local World Coaches, not only focus on football, but they also serve to nurture life skills. Life skills include communication and creative competences as well as critical thinking, dealing with emotions, and solving problems. These are all skills that children learn by playing football, and they can apply the same skills in their daily lives.
Identifying social issues
WorldCoaches trainers can also make a difference by addressing relevant local themes during their training sessions, such as crime, health issues, diversity, and girls' and women's rights. Educating people on these subjects can sometimes be challenging.
For this reason, the WorldCoaches programme teaches its pupils what it means to be a role model, how to identify and analyse social problems, open them up for discussion, and refer their target group to the local institutions. This is how WorldCoaches pupils can become role models and confidants that guide children on and off the pitch.
Results
The WorldCoaches courses are held in countries with which the Netherlands, the KNVB or one of its partners has a relationship. Since 2009 we have trained over 15,000 World Coaches (24% of which female coaches) and reached more than 600,000 children.
Anyone with a passion for football and the right mindset can become a World Coach. Motivated and talented coaches can develop their skills to an advanced level or even become an instructor themselves. That is how we create an independent network of local knowledge.
Organisation
WorldCoaches is one of the five pillars of KNVB's international strategic agenda. KNVB has teamed up with various organisations to generate the biggest impact. The KNVB invests in the programme, with the Dutch Ministries of Foreign Affairs and Health, Welfare, and Sport, and works together with local organisations, other football associations, companies, and international non-governmental organisations as UNICEF and War Child.
---
Contact
WorldCoaches
Website: www.knvb.com/themes/worldcoaches
E-mail: worldcoaches@knvb.nl
Phone: +31 (0) 88 027 50 50