Your 'one-stop-shop' to all sports related companies and organisations in the Netherlands
Orange Sports Forum (OSF) is a network that supports the Netherlands' sports industry and business in their international ambitions. We offer a platform for the promotion of these companies and organisations. It is about 'hardware' (infrastructure, accommodations, financing, advising) and 'software' (training, coaching, education, organisation, sports marketing).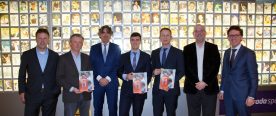 More than 300 organisations and companies are now members of Orange Sports Forum, ranging from small start-ups to world players, like Philips, Ajax and Royal HassKoningDHV. A number of 'up-and-coming' markets work with us, and others have indicated their wish to cooperate with the Netherlands in the field of sport.
Results
For example. In 2011, we started a cooperation with the India Football Federation for a youth and development program. OSF and parties like PSV Football and Philips helped to set up a youth academy. And Dutch people took a seat in the India Football Federation. The next edition of the World Cup Under-17s will be hosted by India. In 2015, OSF participated in a mission to prepare the European Games of Baku, Azerbaijan. One of the outcomes of that mission was an assignment for Dutch Infostrada (later renamed 'Gracenote') to deliver all sports data for this event.
Organisation
OSF is an initiative of the companies Twynstra Gudde – Consultants and Managers, DRK Interim Management & Consultancy, The Bridge Business Innovators and SportBizz. We are a small organisation, yet through our network, we offer access to more than 300 companies and institutions.
Foreign companies, sports organisations, local- and central authorities are very welcome to contact us about possibilities of working together with sports organisations and companies from the Netherlands.
Contact
Orange Sports Forum

Rick Sleegers

E-mail: r.sleegers@orangesportsforum.nl

Telephone: +31 (0)85 401 19 77