Accelerates technological innovation for athletes
The Sport Innovator Centre Limburg is a 'sports incubator' that accelerates the market introduction of innovations that are relevant for athletes, and simultaneously boosts economic growth. Sport Innovator Centre Limburg is particularly successful in the research and development of fabrics.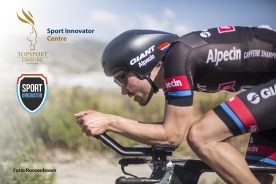 The aim of the Sport Innovator Centre Limburg is to help athletes perform better by implementing innovations, whilst helping the companies behind the innovations to speed up worldwide market introduction of their innovation. Companies with innovations that will help athletes perform better are welcome to take part in the incubator. We can support their business development. We will facilitate contact with athletes, who can become global ambassadors for the innovation through its use, whilst competing,inspiring uptake of the innovation by others. Sport Innovator Centre Limburg is able to facilitate a broad range of innovations, but is especially strong in new materials. We offer a programme for companies of a maximum of three years. Companies that need less intensive support
can opt for a tailor-made guidance programme, which ranges from just being connected to partners to a broader business development programme.
Results
In a first pilot, ten companies based in the Netherlands were guided in business development and connected to top-level athletes. The athletes became their ambassadors and are now implementing the innovations worldwide, whilst competing. One of the best known innovations in sports, which the Sport Innovation Centre Limburg helped to establish, are the Dyneema®-shorts developed by DSM for cyclists. These were tested by Team Giant-Alpecin during the Tour de France in 2015.
More about the Innovator Centre
Sport Innovator Centre Limburg is part of an international network that includes partners, such as Le Tremplin (Paris) and Aspire Academy (Qatar). We work closely together with athletes, industrial companies, local authorities, healthcare-, educational- and research centres.
Contact
We at Sport Innovator Centre Limburg like to tell you more about our projects and invite you to work with us. Please contact us.
Sport Innovator Centre Limburg
topsportlimburg.nl/innovatie
Anne Paquay
E-mail: anne.paquay@topsportlimburg.nl
Mobile: +31 (0)6 51 809 597