Creates equal opportunities for all children to do sports
---
The Krajicek Foundation motivates youth in deprived urban areas in the Netherlands to develop an active and healthy lifestyle. Children who regularly do sports and play outside are happier, healthier and learn to develop their talents.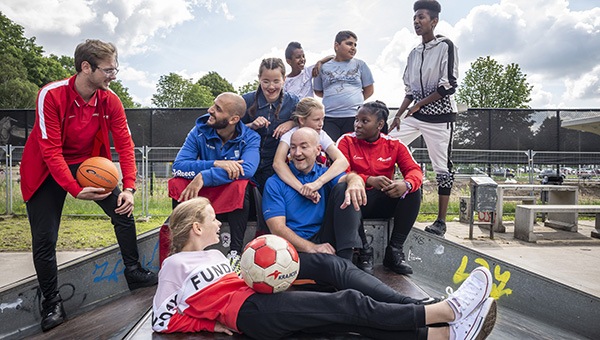 Our approach is unique. In collaboration with municipalities, we create Krajicek Playgrounds where children can do sports and play outside in a socially safe environment, close to home. They are guided by professional community coaches and by our Krajicek Scholars: youngsters from the community who, in return for a scholarship, regularly organise activities on their Playground.
Results
Currently, we have 126 Krajicek Playgrounds in 41 municipalities with a reach of over 5,600 children. In the current academic year, we support 200 youngsters via our Krajicek Scholarship Programme and, in total, we have awarded over 2,150 scholarships since the start of the programme in 2006.
Over 20 years of experience
The Krajicek Foundation was founded in 1997 by former tennis player Richard Krajicek. After his victory at Wimbledon in 1996, he decided to organise a tennis clinic in a deprived neighbourhood instead of a celebratory ceremony. He was touched by the sincere joy but also shocked to learn that many of the youngsters had never held a tennis racket before. He learned that for many it was not common to do sports and play outside. Right then and there, he decided to try and make a positive change in their lives.
---
Contact
Through our activities, and in collaboration with our partners, we want to contribute to the positive development of Dutch youth, and thus an active, social and connected society.

Krajicek Foundation
Website: www.krajicek.nl
E-mail: freia@krajicek.nl
Phone: +31 (0) 6 22 930 340