(beach) volleyball in Senegal
---
With the project World2Win (beach) volleyball, NOC*NSF wants to make a significant contribution to the development of volleyball in Senegal. We believe we can make a change and build a better world through sport. In this context, we share our knowledge about elite sports and sports participation by exchanging insights with and exploring opportunities in Senegalese volleyball.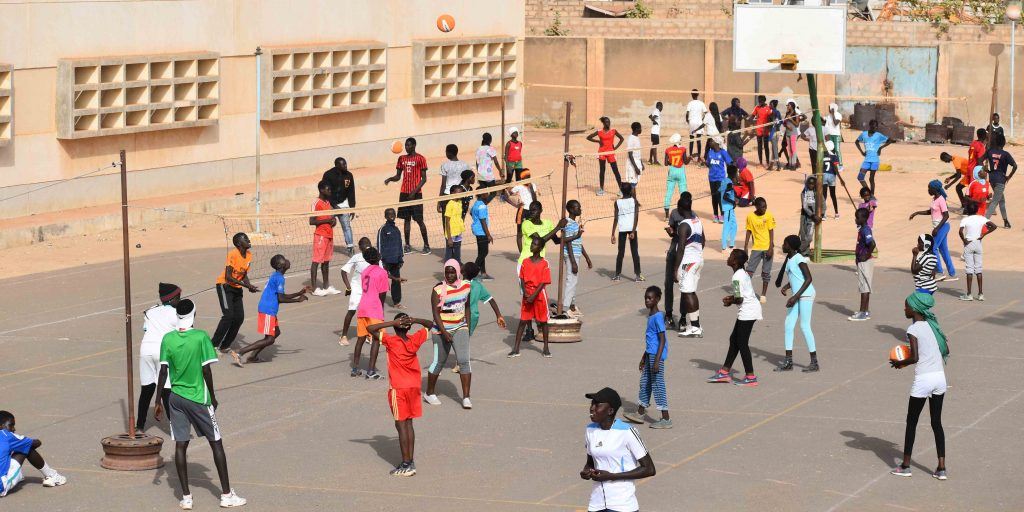 In 2026, the Youth Olympic Games will be the first Olympic event in history to take place on the African continent. A special occasion, that we use as an inspiration to build a strong connection between the EU and Africa.
World2Win (beach) volleyball
World2Win is an international project that establishes relationships between several EU-partners and Senegal, focusing on the development of volleyball in Senegal. World2Win is co-funded by the European Union.
Six partners from four countries in the EU and Africa have joined forces in this project:
the National Olympic Committees from the Netherlands and Senegal
4 Volleyball Federations: Nevobo (Netherlands), Volley Vlaanderen (Belgium), Fédération Française de Volley (France), Fédération Sénégalaise de Volleyball (Senegal)
Aim
For the coming years, World2Win catalyzes development in Senegal and between Senegal and Europe. The international dimension of the sport will be promoted by the support of learning mobilities, exchanges, and knowledge transfer. We will:
develop staff by exchanges, mobilities and training
build an EU/African network of staff/coaches with potential for further collaboration
deliver a model for volleyball development in Senegal, developed in collaboration with all partners, which can be used by other sports associations and countries in the EU/Africa
inspire youth in EU and Africa with the sport from grassroots to high performance
contribute to sustainable development goals with a focus on girls' empowerment with a programme called Volleyball4life.
Coordination
NOC*NSF is responsible for the overall coordination of the project. Hereby we share our knowledge with partners and focus on the management development of the Senegalese Volleyball Federation. Besides this, we provide contacts with international organisations (for example IOC and EU). Together with the partners, we work on a sustainable impact based on long-lasting partnerships. Nevobo is responsible for technical development as well as the girls' empowerment programme Volleyball4life. The other partners support these themes.
---
Contact
NOC*NSF
Website: www.world2win.org
E-mail: ingrid.vangelder@nocnsf.nl
Phone: +31(0)26 483 44 00