Changes the world of sports with social impact projects
---
More2Win believes in the well-known quote from Nelson Mandela: "Sport has the power to change the world". As far as we are concerned, the unique strength of sports is that sports can make the difference in every social theme. Whether it concerns a more inclusive society, public health, or a more sustainable world: sports can contribute.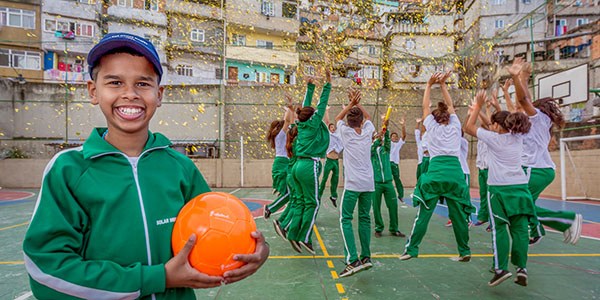 More2Win was founded in 2014, with attributions to the FIFA World Cup 2014 and the Rio Olympics in 2016 as our first major projects. Our goal is to ensure that everyone who is professionally involved in sports can put the social value of (elite) sport first. We support every organisation that believes in the power of sport to manage the impact, from governments and federations to event organisers and sponsors.
In our work, there are three major things you can expect from us:
We ensure that we demonstrate (y)our impact
We provide a correct story. Impact first, transparent, but also profitable
We not only provide a creative concept, a new strategy, or a plan of action, we are also doers who support you with the realisation of your project.
Social impact is key
We have realised social impact projects at many sporting events all around the world. We cannot, therefore, accept that this potential is being hugely underused in many areas. Whether it concerns sporting events, top sports policy, or sponsor campaigns: the social impact is rarely the goal, but is often seen as a by-catch.
We are a social enterprise on social impact. We have an entrepreneurial attitude in everything we do. This means that we can make creative connections between social themes, sports, and commerce and that we always reflect some form of pay for success or pay for impact.
---
Contact
More2Win
Website: www.more2win.com
E-mail: tim@more2win.com
Phone: +31 (0)6 20 962 999