This manual gives an overview of all the knowledge and developed products of the project Keep Youngsters Involved. It also provides you with information on how to use these products.
Summary of the project
Young people in Europe in between of 12-19 years become less and less active. Especially youngsters from lower socio-economic backgrounds drop out more often from (organized) sport and are even less physically active. In addition, they present higher sedentary prevalence rates. Because of this reason we started the project: 'Keep youngsters involved in Sport' together with eight European partner organisations. A project that aimed to gather and disseminate knowledge about how to keep youngsters involved in sports with special attention to youngsters with a low socio-economic background.
This project identified 14 factors to prevent youngsters from dropping out in sport from research; we formed specific actions on how to reach goals within these factors and improved the factors when needed. Practical tools have been developed for this purpose. The project started with gathering research information and ended up with a toolkit, developed for grass root sport and used by trainers, coaches, youngsters, youth committee members, and professionals who work with vulnerable youth in sport.
Background information about the project
Infographic
This infographic gives general information about the project.
View infographic
Methodology
Methodology for identifying the 14 factors and the KYI framework.
Read the methodology
E-poster
E-poster presented at the HEPA EU/ISPAH meeting in 2018 with the framework and factors and actions to prevent youngsters from dropout in youth sports: result of a rapid review and expert opinions by JJ. Murphy, CB. Woods, J. Seghers and D. Dijk.
View e-poster
Framework
The framework of Keep Youngsters Involved.
Read more about the framework
Article on the research of the project:


to be added soon
Partners of the project
Eight partners collaborated in this project to increase and share knowledge about how to keep youngsters involved in sport. Who are these partners? Read more about the partner organisations.
14 Factors to prevent youngsters from dropout in sport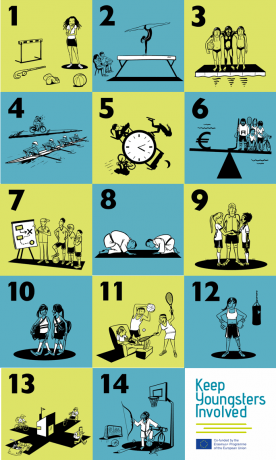 During this project, we've identified factors that prevent youngsters from dropping out of sports. We've constructed these factors by a rapid review of conducted literature.
Our take-off point is the definition of sports dropout: 'The prolonged absence of systematic practice and competition, either in one sport (sport-specific dropout) or all sports (sport-general dropout)'.
To give you more context; this short movie/webclip shows you what youngsters think of sports and what their motivational factors are to participate in sports.
The 14 factors and actions can be explained per factor. The actions are concrete efforts or acts the sport club and/or the trainers/coaches can undertake within their sport club, to improve the different factors.
Factor 1: Autonomy

Factor 2: Perceived Competence

Factor 3: Relatedness

Factor 4: Learning climate

Factor 5: Time / Goal balance

Factor 6: Cost

Factor 7: Expectancies

Factor 8: Values

Factor 9: Coach-Athlete relationship

Factor 10: Peer-Involvement

Factor 11: Parental Autonomy Support

Factor 12: Prevention Policy

Factor 13: Accessibility

Factor 14: Type of sport offer
Toolkit
Based on the 14 factors we've developed a toolkit for professionals to work with. The toolkit consist of a set of card games, a participation ladder and the quick scan Youth-score.
Card games


The most important tool in the toolkit is the set of card games, developed for the Erasmus+ Sport project Keep Youngsters Involved.
These card games help you to get to know more about how to implement actions in the sport club to keep youngsters (12-19 year) involved and prevent them from dropout.
The different card games can help professionals who work with youngsters in sport, young adults and sport clubs to improve their policy on youth, and can contribute to creating a sports club action plan.
The card games can be played by coaches, trainers, youngsters, volunteers and all kind of professional who work with youngsters in sport. View the card games.
Or read more on the methodology of the card games.

Participation ladder
How can you stimulate young people to actively participate in sports? How much responsibility can you give them? Isn't it a lot of work to supervise them? How do you approach this and what are the results? These are questions that many clubs face. The 'Young People's Participation in Sports Ladder' can help to give insight into the extent to which a club actively involves young people. Use the ladder to determine where you currently stand and where you want to go. Be inspired by the practical examples that are included and make a plan of action for your club. View the participation ladder.

Quick scan Y-score for sports clubs
How youth-oriented is your sports club? In other words, is your club accessible and attractive to young members? Does the club give enough consideration to the wishes, needs and possibilities of the various groups of young people? And especially, how can this be improved? The Y-score answers these questions. It's an instrument that quickly and easily gives insight into how youth-oriented your club is. It helps you to look at your club through a young person's 'eyes'. View the Quick scan Y-score for sports clubs.
National and European meetings
Knowledge and experiences are being exchanged during national meetings and workshops within the different countries (Belgium, Finland, Romania, Portugal, Ireland and the Netherlands) to select and improve the best information, products and tools and to implement it. Sport professionals and volunteers who work with youngsters at local level, important national and regional stakeholders (sport federations and associations, universities, applied science sport studies and fitness centres) were invited and gave feedback to the development of the products.
Final conference, 14-15 March 2019
During the final conference, we presented the outcomes of the project which are applicable at sports clubs all over Europe. Via the TAFISA and HEPA Europe network we are also disseminating the products to other (European) countries.

Case-of-study KYI at Erasmus+ Seminar Romania, 6 November 2018
During this meeting, a case-of-study was presented based on Keep Youngsters Involved starting with the idea, the international team with everyone's role and mission, the collaboration standards and financial and administrative rules.
Read more about this meeting.

Irish National Meeting, 29 September 2018
The Irish national meeting was organised at the Department of Physical Education and Sport Sciences (PESS) at the University of Limerick.
Read more about this meeting.

National meeting Finland, 22 October 2018
In the meeting, key factors were presented and discussed. The importance of defining the dropout and measurable goals were seen essential in choosing and evaluating the impact of strategies and specific actions were stressed. Past experiences (successful and avoidable) were shared in an informal manner.
Read more about this meeting.

National meeting Portugal, 19 September 2018
The Portuguese National Meeting aimed to present the project and to discuss with the different national sports agents, the strategies to prevent dropout sport in youngsters between 12-19 years. Partners presented the overall general information about the project as well as the 14 factors associated with sports dropout prevention identified in the literature review. In addition, actions and instruments associated with these 14 factors were also discussed.
Read more about this meeting.

National meeting Belgium, 6 June 2018
Successful national meeting in Leuven discussing actions for clubs and coaches to prevent dropout in youth sports. Based on the 14 different factors, the participants interactively started working with the associated critical success factors for dropout among youngsters.
Read more about this meeting.

National meeting Romania, 26-28 March 2018
A fourth partner meeting and a national workshop was held in Bucharest, Romania. All project partners, as well as invited international experts, attended the partner meeting. As part of the project meeting in Bucharest, the Romanian partner of the project, initiated a national workshop 'Why do young people dropout from sport?'.
Read more about this meeting.

National meeting Netherlands, 29 September 2017
Four young swimmers shared their experiences of being a member of a swimming club during the annual swimming congress from the Royal Dutch Swimming Federation (KNZB). Participants of two workshops were being told about their views on participation in sports. What prevents them from dropout? In what way can the adult sport leaders influence their stay at the club? What kind of sports climate do they prefer? Dutch Trainers, board members and volunteers participated in the two worksops.
Read more about this meeting.
Keep yourself posted #keepyoungstersinvolved