---
The creation of a completely new track bike is one of the most visible Dutch innovations for the Olympic Games in Tokyo 2021. Also, the project is a great example of the collaboration between industry, academia, and sports.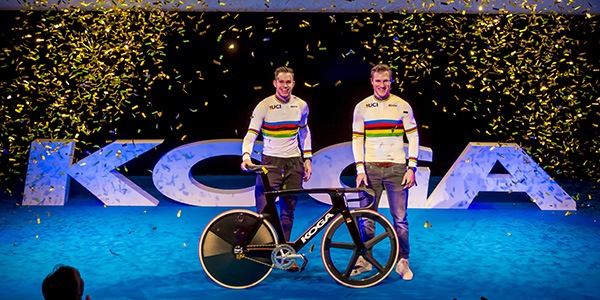 The Royal Dutch Cycling Federation (Koninklijke Nederlandsche Wielrenunie, KNWU), bike manufacturer KOGA, Delft University of Technology (TU Delft), Pontis Engineering, and Actiflow have jointly created a completely new track bike for the Dutch Olympic Team.
The bike is predicted to contribute to achieving good results at the Olympic Games in Tokyo in 2021. It has been designed to deliver an optimum combination of lightweight and aerodynamics as well as to correspond to the individual characteristics of the cyclist and his/her particular discipline. The bike is expected to yield an advantage of 0.5 seconds during the team sprint event.
Cyclists and staff attribute to the development
KOGA had already developed a special bike, the Kimera, for Olympic cyclist Theo Bos during the 2008 Beijing Olympic Games. This time, new track bikes will be designed and developed for the entire Olympic cycling team – specifically tailored to each cyclist.
The cyclists in the national team selection and their training staff have played an active role
in the development of the new bike. Each Olympic cyclist will receive a custom-made KOGA track bike. The frame and handlebars have been adapted to the individual cyclist's length and posture, ensuring the stability of the bike. This is important because sprinters in particular exert unprecedented forces on the bike at peak times at the start or in full sprint.
The project is a good example of the added value of a close collaboration between industry, academia, and elite sports.
---
Contact
KOGA, KNWU, TU Delft, Pontis, Actiflow
Website: www.knwu.nl/project-tokyo
E-mail: M.Dorlandt@accell.nl
Phone: +31 (0)6 53 339 131